A coach full of talent
Share - WeChat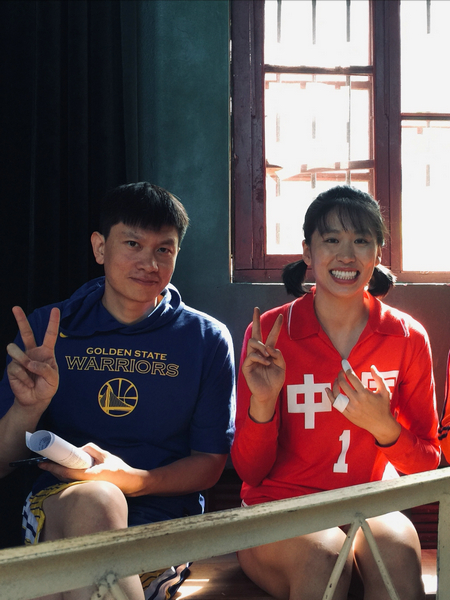 In June 2019, acting teacher Li Yadi flew to San Francisco for a special assignment. He had to train an actress who never before had to learn a script or appear in front of the camera. Nonetheless the hopeful Bai Lang, whose English name is Lydia, was destined to play a leading role in Hong Kong director Peter Chan's volleyball-themed movie, Leap. But a great deal of work had to be done.
Before he embarked on the trip Li, a teacher from the Central Academy of Drama, watched a video offered by Chan, in which Bai, in a screen test, spoke dialogue from the movie. Li, who has been teaching acting since 2005, realized the extent of the task before him.
The role Bai was set to portray was Lang Ping, her biological mother, a household name in China nicknamed the "Iron Hammer". She was one of the greatest volleyball players of all time. She won a gold medal for the country as a player at the 1984 Los Angeles Olympics and then again as a coach at the 2016 Rio Olympics.
Director Chan told acting teacher Li that he couldn't even think of another person to play the young Lang Ping in the movie. "She looks like her mother and for the audience, they will be convinced and accept her as Lang Ping," said Chan. Li still considered it a risky choice, though.
The movie, which opened on Sept 25, grossed about 150 million yuan ($22 million) within a week. The biographical sports drama about the Chinese women's national volleyball team, with a focus on player-turned-coach Lang Ping, also saw a compelling performance by award-winning actress Gong Li, who played the role of the adult Lang Ping.
Three phases of her career are highlighted in the movie. The first is the 1980s, when the young Lang (played by Bai) and her volleyball teammates train relentlessly but realize that their technique needs dramatic improvement. That is followed by the 2008 Beijing Olympics, when the US team, led by Lang Ping, is pitted against the Chinese team led by Lang's former coaching partner and longtime friend, Chen Zhonghe (played by actor Huang Bo). The final stanza of the movie revolves around Lang's return from the United States to serve as head coach for the Chinese women's national volleyball team from 2013 to 2016.
Bai, 28, who was born in the US, graduated from Stanford University with a major in management science and engineering and works at an investment bank. She learned to play volleyball at 14.
"She was not very happy when I first met her. To prepare for the role, she received intensive physical training, after work every day, to lose weight," recalls Li. "I asked her to pick a favorite song and she chose a song from the Disney animated feature film, Moana, which expresses a little girl's yearning for the big ocean."
Volleyball is like a big ocean for Bai, Li says. "She grew up with the sport thanks to her mother. All she needed was to release her passion for volleyball thoroughly."
He adds that it was a good decision to have Bai and other athletes from the Chinese women's team to play in the movie. "They may lack the acting experience but they've been through all the training and hardship necessary to achieve success. That experience is beyond a professional actress," says Li.
Holding court
Li tutored Bai one-on-one in her acting class for three hours every evening. At first, she struggled with technique and just read the lines.
Li then showed her videos of her mother as a young athlete. Bai learned to imitate her mother's hand gestures, movements and the language she used during the game.
The two established a mutual trust, and Li noticed that Bai gradually opened up and gained confidence. "I tried to tell her: 'You need to find who you are while portraying the role rather than acting as Lang Ping'," says Li.
In one of the scenes in the movie, the young Lang has to make a decision between going to university and playing volleyball. The process of making a decision resonated with Bai, who also had to choose between her career in finance and playing volleyball.
They spent three days working on the scene. "The movements, like sitting down and taking off her shoes, were rehearsed over and over again, until she could do it naturally and feel free to deliver her emotions while speaking the lines," recalls Li.
On the 10th day following his arrival in San Francisco to instruct Bai, Li sent director Chan a video of Bai's performance. "You gave me a big surprise," Chan told Li.
Li says: "For Bai, the Chinese women's volleyball team is more like a family, warm and special."
As Bai wrote on Sina Weibo on Sept 26, the second day after the movie premiered: "When I look back on myself, I grew up with encouragement from my mother and the spirit of the Chinese women's volleyball team, strong and persistent.
"It's a great experience to share the stories of my mother's youth and to better understand her passion and love for the sport."
As well as Bai, Li was also invited by Chan to train other athletes from the Chinese team, including Zhu Ting, the team's captain.
Li, 41, born in Jinan, Shandong province, was introduced to art by his father, a painter, and his mother, a music teacher and choreographer. At 18, Li watched the classic play, Tianxia Diyilou (World's No 1 Restaurant), by the established Beijing People's Art Theater, which tells the story of a Peking duck restaurant, named Fujude, against the backdrop of the 1920s.
Impressed by the actors' performances, Li decided to pursue a career on stage. In 2002, he was enrolled to study acting at the Central Academy of Drama and graduated with a master's degree in 2005. He acts and directs plays, dramas and musicals, including the Broadway hits, Into the Woods and Crazy for You. As an acting teacher, he has also worked with actor-director Wu Jing on the movie, The Wandering Earth, and worked with Hong Kong actress-director Sandra Kwan Yue Ng on the movie, On Your Mom, Get Set, Go!
"One of the best parts of being an actor is that I can experience a different life by playing each role, while reflecting upon my own real life. It is an expansion and constantly helps me to renew myself," says Li.
"Being an acting teacher, you serve as a catalyst, which has to be responding truthfully to imaginary circumstances."
Most Popular